---
You're probably more familiar with rocket's other name, arugula. The small, cruciferous vegetable is much beloved in Europe and across the western states in America for its spicy, slightly bitter and peppery taste, and interesting texture. It belongs to the Brassicaceae family, whose members include the mustard green, cauliflower, and kale. Like all progeny from this family, rocket is extremely nutrient-dense. Nutritionists highly recommend adding arugula to as many dishes as possible.
The plant is cute in its size. Rocket are not big plants and are normally harvested when very young. It is native to the Mediterranean but can thrive in any temperate climate. These greens are sold under many names, so it's best to use their scientific name – Eruca vesicaria sativa – when buying them at your local organic store.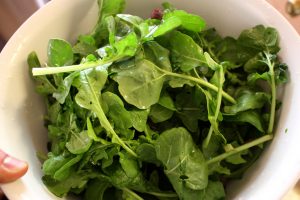 List of known nutrients
Alpha-carotene

Beta-carotene

Calcium

Copper

Folates

Iron

Lutein-zeaxanthin

Magnesium

Niacin

Pantothenic acid

Phosphorous

Potassium

Pyridoxine

Selenium

Sodium

Thiamin

Vitamin A

Vitamin C

Vitamin E

Vitamin K

Zinc
Medicinal uses for rocket
Arugula is perhaps not as popular as its siblings, but its therapeutic effects are still worth noting. These greens contain high amounts of nitrates which are known to lower blood pressure and reduce the amount of oxygen needed during exercise.
Cancer – Cruciferous vegetables are known to significantly lower the risk of cancer, particularly the lung and colon varieties. Numerous studies have concluded that green leafy vegetables delay the growth of tumors as well as inhibit cancer-causing enzymes from proliferating in the body. Rocket greens are said to be extremely potent in reducing cancerous growths. Moreover, they contain high amounts of chlorophyll which has been shown to block carcinogenic effects.
Diabetes – Rocket greens are great sources of alpha-lipoic acid. These compounds are recognized to lower glucose levels, increase insulin sensitivity, and prevent associated symptoms of diabetes. An analysis on the efficacy of rocket greens against diabetes showed that the vegetable decreased peripheral and autonomic neuropathy (nerve damage).
Osteoporosis – Arugula contributes to your daily need for calcium, offering as much as 64 mg in two cups. Rocket greens also have adequate amounts of vitamin K which can improve the bone matrix.
Exercise – Studies have suggested that arugula can enhance athletic performance, particularly because of their high nitrate content. Supposedly, rocket greens can improve how well your body uses oxygen, preventing muscle fatigue and nerve damage.
Eating too much arugula though can interact negatively with your blood thinner. There are also people who experience gastrointestinal distress when they consume rocket greens. If you have a sensitive stomach or on blood thinners, please ask your dietitian if you can eat arugula.
Body systems supported by rocket
Rocket improves your digestion. As we explore the deep, intrinsic connection between the brain and the gut, we begin to understand just how important diet is to overall health. Arugula works by introducing different antioxidants into the system; each working together to enhance organ function. It likewise has an added effect of removing toxins from the body. As such, the entire body is supported by this leafy green.
Ways to use rocket
It is best not to overcook rocket, if at all. This lowers its nutritional profile. Instead, we recommend tossing freshly cut arugula in a salad.
Where to learn more
Summary
Rocket, otherwise known as arugula, is a cruciferous vegetable that has a lot of medicinal uses. It is a delicious way to prevent cancer, osteoporosis, and diabetes. Those who are on blood thinners are warned against taking it, as they can experience nausea or diarrhea.
Sources include: